The amenities in Club Plays inside downtown's newly renovated Town Residences feel like they came out of a Detroit rapper's fever dream. There's the stripper pole that greets you as soon as you walk in, a fully stocked bar, DJ booth, a 70-inch flat screen TV, and a walk-out patio with clear views of the city from 16 floors up.
Inside, members of Detroit hip-hop group Doughboyz Cashout are lounging and laughing over red cups full of Añejo while taking shots of Don Julio. Payroll Giovanni, Big Quis, Chaz Bling, Clay, Scooch, Dre, and Freddy K are tipsy enough to share stories about their early years, shouting over each other as they click through their old YouTube videos, recalling forgotten stories and laughs while viewing their biggest hits.
There was "Good Ass Day," a Detroit summer anthem since its 2010 release. They joke about how young they looked in the video for "Grind 2 Shine," and remember how seemingly everyone in the Strathmoor and Fenkell neighborhood came out for the video for "Mob Life
By Kahn Santori Davison@KahnSantori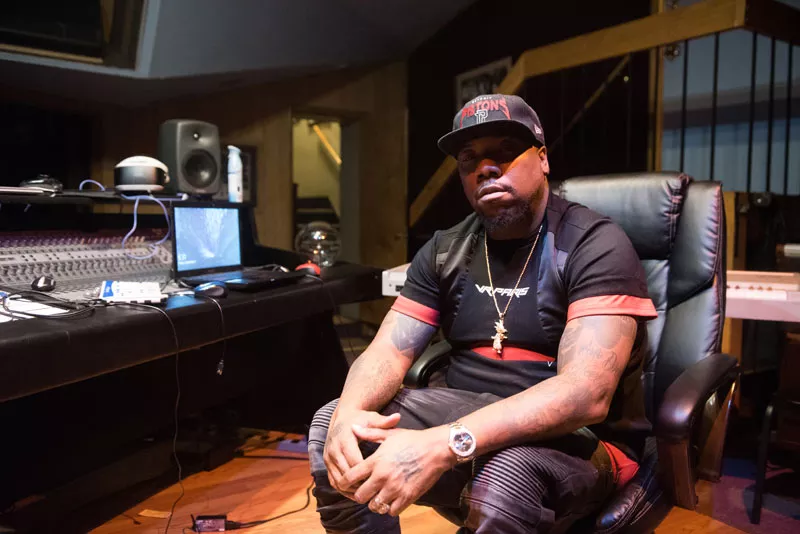 Helluva and the rise WorldStar Hip-Hop
In early 2010, Detroit producer Helluva was looking for a new musical catalyst. He was four years removed from his biggest production hit, "It Takes Money to Make Money" by Stretch Money. He had spent the previous decade trying to make whatever sound he felt the music industry was promoting at the time when he finally decided to stop chasing what he thought people wanted to hear and create what he felt Detroit sounded like. He called it "basement music."
Helluva reached out to Doughboyz Cashout. "He called me and he was like, 'Ya'll the truth,'" Payroll says. "I had already been a fan of his. We knew once we got with Helluva it was over." Helluva worked with Doughboyz Cashout for their third album, We Run the City Vol. 3: Chances Make Champions.
"I was one of the first people to start working with the Doughboyz," Helluva told Metro Times in 2018. "Once they came out, a whole wave of more younger music started coming. After Doughboyz came, Detroit reached a point where we started being fans of ourselves … Detroit people started to like Detroit music. All the other times we were making music, nobody really cared … Detroit was like, 'This is hot, we listening to it, we don't care about what everybody else is doing or what everybody else sounds like.'"
Helluva's sentiments toward local support had been a shared gripe throughout much of the Detroit hip-hop community. Many artists felt like they would be better off looking for popularity and acceptance beyond Detroit first. Others felt local support was only obtainable if you were emulating the sound of a nationally known artist. Whether trap or backpack, Detroit just didn't seem interested in giving a heavy embrace to a "local" artist for longer than a summer. "What made our music different is that we weren't trying to fit in," says Clay. "We were just rapping about our lifestyle and what we were actually going through."
Armed with Helluva's new basement sound, Chances Make Champions extended Doughboyz Cashout's run as the hottest hip-hop group in the city. But it was the 2011 Helluva-produced No Deal on Chill album that made Doughboyz Cashout a national underground hip-hop powerhouse. "Everything was just real polished on No Deal on Chill," says Payroll.
Doughboyz Cashout had also become a mainstay on World Star Hip-Hop, a popular website and YouTube page. WSHH was an urban Dateline of sorts, a chronicle of mostly cellphone videos showing the good, bad, and ugly of urban culture. Viewers would get treated to videos of bathroom sex shenanigans, road rage fights, neighborhood shoot-outs, Kimbo Slice's backyard beatdowns, and music from the hottest new street artists in the country. Doughboyz Cashout's videos for "Good Ass Day," "Low Key Chick," and "Mob Life" garnered millions of views on the platform back when getting a million views by Detroit underground artists was unheard of. Doughboyz Cashout swear it all happened organically, and say they never reached out to WSHH. "We never had to reach out to anybody. They all came to us," says Quis.Doughboyz Cashout became a mainstay on World Star Hip-Hop just as social media was transforming — putting them in the right digital space at the right time.tweet this
As content from WHHS made its way to social media, Doughboyz Cashout's exposure was amplified because it came just as social media was becoming the preferred way music and performances were shared and critiqued. The group's Detroit fanbase and national cult following had put them in the right digital space at the right time.
However, just as things were elevating to a new level, Doughboy Roc, the self-proclaimed mayor of Doughboyz Cashout, turned himself in to authorities in 2011 to serve time for carrying a weapon with unlawful intent. "Before he turned himself in, he told me I had to step up," says Quis. "I wasn't rapping like that. He was like, 'We can't let this shit die.' And I stepped it up for him, too."